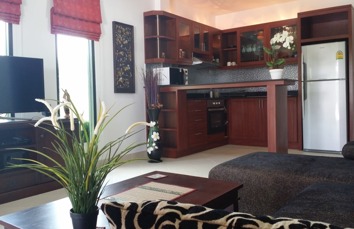 Apartments in Palm Leaf – located between Ban Phe and Mae Phim.
Palm Leaf Condominium: Imagine living in apartment accommodation with a comfortable home feeling! A mere 500 meters from Silver Beach, Sunshine House are building Palm Leaf Condominium that consists of 24 apartments spread over three low rise buildings and with a great pool area.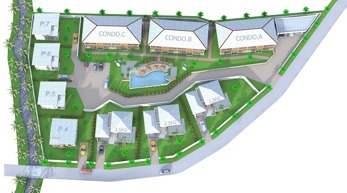 Palm Leaf Condominium is located in the province of Rayong, which among other things is famous for its beautiful beaches and the paradise island of Koh sameth.

In the area's direct surroundings you will find the kilometer-long silver beach with one of the area's more popular restaurants, Coca Cola Beach. You will find even more restaurants and service shops in Plong Saway, which is just 1 kilometer away from the Palm Leaf, and if you want to have a greater choice regarding the shops, the bustling Rayon city is only 30 km away from the Condominium.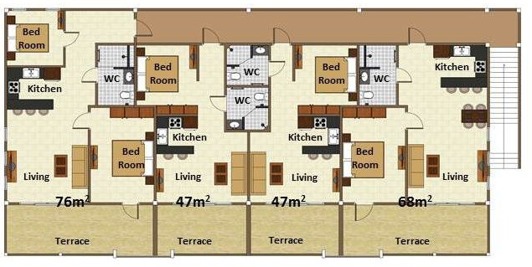 There are three different apartment types at Palm Leaf.
Our smaller model is 47 S.qm and consists of bedroom living room combined kitchen and terrace.
The medium sized apartment is 68 S.qm and consists of one or two bedrooms, living room open kitchen, bathroom and terrace.
The large apartment type is 73-76 S.qm and consists of two bedrooms, combined living room kitchen, bathroom and terrace.